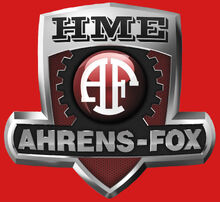 HME Ahrens-Fox is a chassis and fire apparatus builder located in Wyoming, Michigan.
History
[
]
In 1913, Magirus Hendrickson formed the Hendrickson Motor Truck Company in Chicago, a manufacturer of heavy trucks. Hendrickson also developed the Hendrickson tandem-axle suspension, widely used today.
In 1972, Hendrickson introduced a custom cabover chassis in conjunction with International, the FTCO. By 1975, the company was marketing its own 1871 chassis, available in 1871-S and low-profile 1871-LPS versions. Further models (1871-W, 1871-C, 1871-WS) were introduced in the early 1980s. The name "1871" was chosen because it was the year of the Great Chicago Fire. These chassis were used by a variety of apparatus manufacturers.
In 1978, the Hendrickson family sold their company to the Boler Group. In 1985, the group sold the Mobile Equipment Division, which included its fire truck manufacturing component, to Kovatch Mobile Equipment (KME). While KME concentrated on building heavy-duty chassis, they sold the remaining assets of Hendrickson Mobile Equipment to its current owners (The Atonne Group) . Hendrickson Mobile Equipment was later shortened to HME.
After the sale, Hendrickson worked extensively with Grumman Emergency Products, manufacturing custom chassis for the company until Grumman ceased building fire trucks in 1992. After Grumman's closure, HME again sold its chassis to body manufacturers, resurrecting the 1871 name. The chassis was sold to apparatus manufacturers all over North America, including Alexis Fire Equipment Company, Smeal Fire Apparatus Company, 3D Manufacturing Inc., Saulsbury Fire & Rescue Apparatus, Fort Garry Fire Trucks, NovaQUINTECH Corporation, 4 Guys Fire Trucks, General Safety Equipment Corporation and several others.
In 2000, HME leased the rights to use the Ahrens-Fox name from its owners and began manufacturing a complete line of apparatus under the Silverfox and Ahrens-Fox names. In 2016, HME announced it had finalized the acquisition of the Ahrens-Fox brand name. The acquisition of the Ahrens-Fox brand provided HME with complete ownership and licensing of the Ahrens-Fox name, logo, symbols, assets, parts and documents[1]. Today, HME builds pumpers, aerial & platform trucks (formerly using R.K. Aerials), wildland apparatus, rescues and tankers. The company also continues to supply chassis to other apparatus manufacturers. In 2014, HME announced it's own line-up of aerial appliances[2].
Products
[
]
Custom Chassis
[
]
Aerials
[
]
HAF51T - 51' Tele-Stream
HAF80L - 80' rear-mount ladder
HAF104P - 104' rear-mount platform
HAF111L - 111' rear-mount ladder
Pumpers
[
]
AF-WUI - Wildland Urban Interface
CAT - City Attack Truck
CommFox - Commercial pumper
MiniEvo - Mini pumper
Model 18 - Type 1 Interface
RAT - Rapid Attack Truck
SilverFox
SilverFox (urban edition)
See Also
[
]
Departments operating HME Ahrens-Fox apparatus
External Links
[
]
References
[
]
Facility Map
[
]